My Story...

y first sailboat was a 1996 Hunter 280 that I purchased in 2011. I had no real sailing experience before buying the H280, but I learned a lot with her, including how to do some maintenance tasks and how to single-hand. She was really a great starter boat for me. But I always wanted a 30+ foot boat, and I wanted something a little more character (the interior of the H280 has a lot of plastic).
When I was looking for a boat in 2011, I inspected a 1988 O'Day 322 at a brokerage in Holland, MI. As I drove home after inspecting the O'Day, I was sure this was the boat. Alas, by the time I was ready to make an offer (this would have been my first boat purchase and I was a little apprehensive), she was sold to someone else. I was really depressed.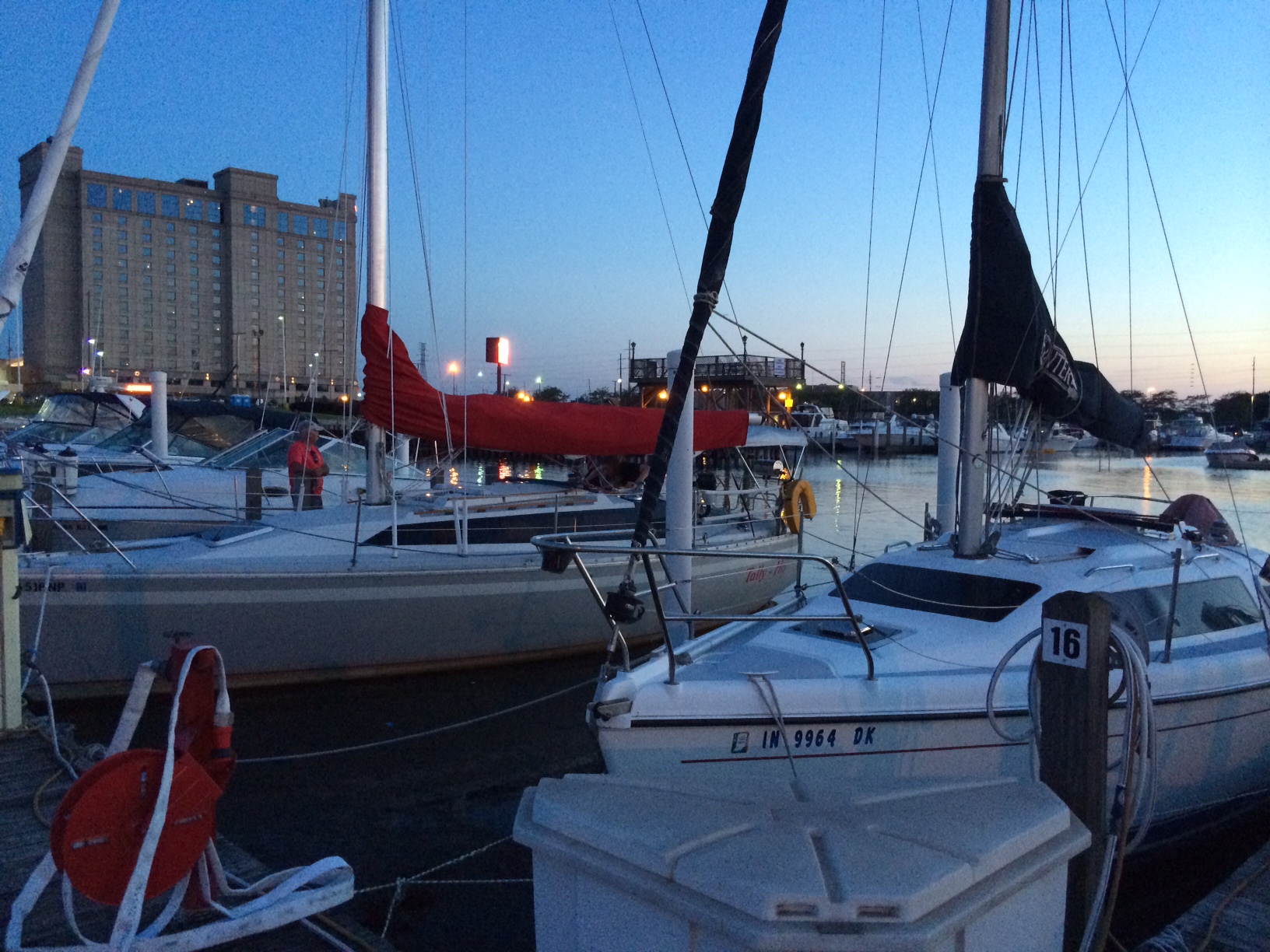 That is when I found the H280, and determined not to miss out on another opportunity, I purchased her on the first visit to see her (a little compulsive, I know). That is how I ended up with "Obsession", the 1996 Hunter 280. I sailed her for a few years, enjoyed learning what she could do, what I could do and in general learning how to sail. She was a low maintenance, easy-to-sail boat and a very good choice for my first boat.


ventually "2-foot-itice" crept in, and I was considering a bigger boat. In mid-2014, I got an email from the couple who had purchased the O'Day 322 "out from under me" back in 2011...and they have moved and needed to sell the O'Day. A quick re-inspection of Tally Ho, a haul-out to verify a few things below the water line, and bang! I owned 2 boats.
The Admiral was not too happy about owning a "fleet", but in truth, I only owned 1 boat...1/2 of the Hunter and 1/2 of the O'Day. I had taken on a boat partner (a good friend who I sailed with all of the time), and so we purchased the O'Day, with the intention of selling the Hunter. So I kept telling the Admiral that we really only owned 1 boat!
Tom and I brought the O'Day home from Holland, MI over Labor Day weekend in 2014. We were fortunate to sell the Hunter a month later before having to put 2 boats into winter storage. Tally Ho! is a great boat, with a lot of character but also with more maintenance needs than our 10-year newer Hunter. Luckily, I think I learned a lot about boat systems and maintenance while doing maintenance on the Hunter.
I will try to post some videos of the various maintenance projects and upgrades we will be making to Tally Ho!. This spring, I replaced the strut bearing, will repack the stuffing box, add a new Mack Pack sail cover, replace the insulation in the engine compartment and a few other projects.
All good things eventually come to an end, and over the 2017-2018 winter layup, my boat partner decided to drop out of the partnership. I am very appreciative of Tom for his getting me into sailing and being a great partner over the past several years. But other things have taken a front seat with Tom, and we had set up an "Exit strategy" should either partner decide they wanted out of the co-ownership plan. I am more than happy to purchase Tom's half of Tally Ho and full and sole ownership of her. When Tally Ho is splashed in the spring of 2018, she will be all mine. I am going to miss Tom as a partner, but hope he will still sail on Tally Ho.
The Projects page will share some videos and notes about some of the projects we are doing on Tally Ho!

Installing a Mack Pack
Replacing a quad rope clutch
Replace the strut bearing using a custom-made tool.
Bringing Tally Ho! Home


Click for weather forecast

Just posted 2 videos of my first "on-the-hook" overnighter on Lake Michigan.

We are adding any O'Day 322 websites, files or other resources we can find to this page.